Fabricators Incorporated is an ISO 9001:2008 certified company with commitment to total quality. We understand the importance of timely shipments and competitive pricing while meeting quality standards of customers. We want our customers to assemble parts supplied by us into their final products without getting any surprises.

To achieve this goal, we have implemented ERP system which not only facilitates our day to day operations but also ensures that quality standards and issues are handled to our customers' satisfaction.

With the help of ERP system, we document, implement and maintain a quality management system in accordance with the requirements of ISO 9001 standards and continually improve its effectiveness.

We do not think that maintaining the quality standards should be burden to our company instead, our existing system and processes helps us achieve quality standards as a byproduct without any extra effort..

Our ISO 9001 quality management system is composed of: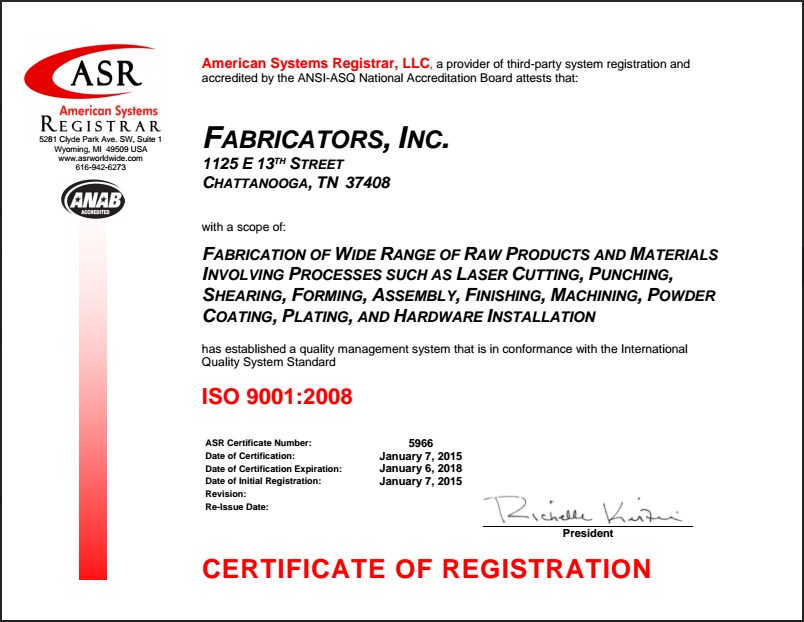 Business Management
Quality Planning
Documentation (Work instructions, Procedures, etc.)
Record Keeping and traceability
Corrective Action
Document Change Control
System for Measurements
System for Production Tooling/Devices
System for Purchasing
Manufacturing Control
Material Control
Production Processing and Fabrication
Completed Items Inspection and Testing
Handling, Storage, and Delivery
Non-conformance Article Handling
Indication of Inspection Status
Training of Staff

We utilize appropriate measurement devices to measure conformance to customer prints.
Other Certifications:
Fabricators is proud to be the member of NMSDC - National Minority Supplier Development Council.